Admissions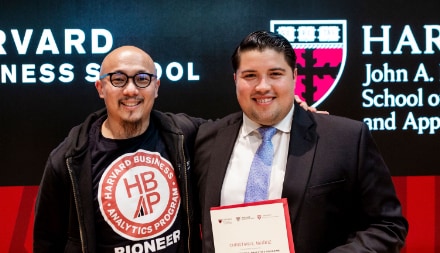 A Certificate That Could Change Your Entire Trajectory
The Harvard Business Analytics Program (HBAP) brings together industry-leading faculty and diverse, data-driven professionals to translate data into better business decisions.
This program is designed with ambitious leaders from all industries in mind. We're looking for candidates who are eager to get better results from their organization and fearlessly lead their teams in a technology- and data-centric marketplace.
"What set HBAP apart was a deeply immersive experience that developed novel skills, as well as a highly engaged network of industry leaders—in every imaginable field—that is continuing to have profound impacts on my career trajectory over time."
Start Dates and Deadlines
You could be less than one year away from amplifying your understanding of data analytics—and transforming the way you work. Three cohorts are offered per year, in January, April, and September.
| Class Start Date | Priority Deadline | Final Deadline |
| --- | --- | --- |
| January 2024 | October 2, 2023 | November 20, 2023 |
Please note: Start dates are subject to change.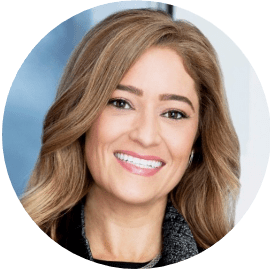 "I wanted to make a major change as I could see other industries embracing change more rapidly and with more transparency and opportunity. I applied to Harvard Business Analytics Program as a way to catapult myself in a new direction. I wanted to be on the right side of digital transformation."
Admissions Guidelines
We accept candidates from across all fields and backgrounds to bring a diversity of perspectives to the classroom. There are no prerequisite courses; however, keep in mind the following:
A bachelor's degree is required.
There is no minimum work requirement, though ideal candidates will have significant experience in a professional setting.
Quantitative experience is not required but will be vital to your success.
English Proficiency
We are proud to have many countries represented in our student body and graduate network. You must be proficient in English to do assignments and participate in discussions. If you are not a native English speaker, you must complete at least one of the following:
Have one or more years of experience working in an English-speaking environment.
Hold a certificate or degree from an English-speaking institution.
Take the Test of English as a Foreign Language (TOEFL) or International English Language Testing System (IELTS).
International applicants are also expected to hold a bachelor's degree or equivalent and must provide copies of transcripts (in English) and a diploma for an admissions decision. If admitted to the program, you will be required to submit a course-by-course World Education Services (WES) transcript evaluation.
Application Requirements
To complete your application, you will need to submit the following:
Transcripts from all degree-granting institutions you have attended (unofficial transcripts are accepted for admissions review). Please send transcripts electronically to AppSvcs@analytics.hbs.edu or by mail to:
Harvard University
Application Processing Center
Harvard Business Analytics Program
PO Box 30096 009-001
College Station, TX 77842
At least one letter of recommendation, preferably from a professional contact (maximum of two letters accepted)
Current professional resume
One essay: Please explain your objectives and goals as they relate to attending this program. Additionally, describe what you think other program participants may learn from you (i.e., perspectives, skills, expertise). 500 words recommended.
Nonrefundable application fee of $75
Ready to Become a Member of the HBAP Network?
We invite you to attend an upcoming information session to learn more about the program. If you have any questions about admissions requirements or the application, our team of enrollment counselors are available to support you at 855-624-8222 or admissions@analytics.hbs.edu.
Join the Next Cohort
Take the next step toward building the analytical skills you need to influence your organization at the highest levels.