Advance Your Executive Skills With
the Harvard Business Analytics Program
A True Harvard Experience, Delivered Online
Offered jointly by Harvard Business School (HBS), the John A. Paulson School of Engineering and Applied Sciences (SEAS), and the Faculty of Arts and Sciences (FAS), the Harvard Business Analytics Program (HBAP) is an online certificate designed by the top minds in AI and data analytics.
The program gives executives and leaders a comprehensive understanding of useful tools and emerging technologies in data mining, predictive analytics, data aggregation, blockchain analytics, AI, and more. You will learn to improve strategy, production, marketing, and operations throughout the supply chain—and effectively communicate key findings to your teams.
Accelerate Your Career in as Few as 9 Months
Rigorous Curriculum Meets Interactive Learning
HBAP courses are designed and taught by Harvard faculty who are actively shaping the future of business analytics. You will engage with course topics by reading case studies and collaborating in group projects. In live, face-to-face classes, you will discuss coursework with fellow HBAPers and our esteemed faculty.
As an HBAPer, you will
complete six core courses that explore how big data has made analytics central to global business's growth strategies;
develop a strategic mastery of languages and platforms, such as Python, SQL, Tableau, AI/ML, blockchain, and more;
gain the skills to make technological decisions through technical instruction, discussion of 65-plus case studies, and weekly programming projects;
complete two seminars on how to use analytics to drive strategic innovation and leadership, and improve people-related decisions;
attend two in-person immersions on campus where you will participate in hands-on exercises to formulate solutions to real-world business scenarios;
join an unparalleled, global network of 1,100-plus students and graduates.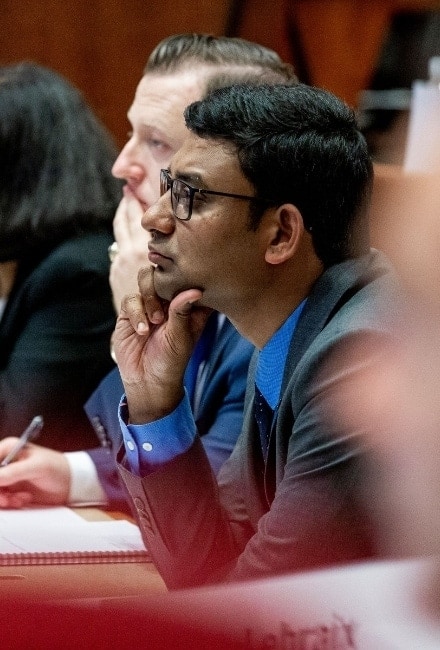 Application Deadline
You could be less than one year away from amplifying your understanding of data analytics—and transforming the way
you work.

Apply by the final deadline of August 22, 2022 to join the October cohort.
Become Part of Our Data-Driven Community
When you join Harvard's business analytics program online, you do not simply earn a certificate.
You become an HBAPer for life—a transformed global business leader with a strong network of
classmates who feel like family.
Learn more about the online Harvard Business Analytics Program today.